Abel Oriri, LPCC-S, NCC, Director

Bio: Abel is an Individual, Marriage & Family Consultant as well as a Licensed Professional Clinical Counselor with Supervision designation. He helps clients to better understand and resolve their current situations and guide them to a happier and successful personal and professional life by applying complementary individual, couple, family or group therapy techniques to unearth long-standing patterns or negative perceptions that may be holding them back from experiencing a meaningful and purposeful life. He provides EAP consultations, critical incident training and response worldwide. Abel supervises doctoral and master level clinical residents & interns. He diagnoses and treats mental & emotional disorders, relationships ,military deployments-consultations, acute stress, insomnia, depression, chemical dependency, marriage separation (all ages).and serves American Red Cross & US Military as a Critical Incident Consultant.

Preferred Contact Information:
Email: [email protected]
April Ballard M.Ed., LPC
Bio: April is an individual, couple, and group counselor. She has a deep passion and empathy for multi-racial and multi-ethnic counseling concerns. Her main interest includes breaking the cultural divide between counselors and patients alike. Her education includes a Master of Education degree in Clinical Mental Health Counseling, a Bachelor of Science in Psychology and Sociology, and a Associate of Arts in Language.
Preferred Contact Information:
Email: [email protected]
Samuel E. Kisner, II, M.S.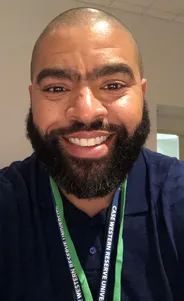 Bio: Samuel is a mental health counseling graduate student with Capella University. He has a passion for helping people help themselves. His goal is to become the most competent, professional, and accountable mental health counselor that he can be. Through continuous professional development, practice and implementation, he will be able to provide his clients with the best overall comprehensive mental health care service possible. Samuel's area of focus will be clinical mental health counseling as he plans on becoming a Licensed Independent Mental Health Counselor. Samuel plans on working with individuals, groups, and would like to focus on underserved and marginalized populations of people within our society.
Email: [email protected]